Amber 22
Allow us to present a workhorse of a beer are American Amber ale with a base of maris otter to lay a biscuity foundation the additions of crystal 45 and 77 give a gentle caramel kiss with a bold depth of flavor hopped with Amarillo Sterling and magnum we also teamed up with Saint John's hop farm to give it a last addition of comet for their lupulin lusciousness a beautiful balance of grains and hops to your glass at 4.7 ABV this Amber is sure to be your go to fall beer.
4.7% ABV / 31.6 IBU
Blu Bearry IPA
Florida "Bears" love blueberries, and so will you with this approachable naturally colored IPA. The aroma is strong and the taste is perfectly subtle. A great summer beer. By the way blueberries aren't blue....
6% ABV / 55 IBU
Panty Dropper*
The perfect marriage of fruit and spice, this traditional Belgian ale is reminiscent of lighter fruits such as pears, oranges or apples with a spiciness making it sweet and seductive. Entirely too drinkable, with generous amounts of candy sugar and high carbonation makes this strong Belgian a favorite even among non-beer drinkers. *named after a panty stealing wiener dog.
10.0% ABV / 25.5 IBU
Killa Vanilla in a Founders Glass
Drinkin'Beer
Just like your "Pops" favorite beer, our take on a domestic lager -albeit with a twist. Milled with Wheat & Munich malts this Wheat Ale is akin to a long lost American cousin of the classic German hefeweizen. Pleasant subtle bready overtones with a touch of malty sweetness and crisp finish round out this all season brew. Light on hops with just the right amount of bitterness paired with a clean yeast profile makes this go with just about anything! Enjoy responsibly.
5.2% ABV / 11 IBU
FLipa
Locally sourced wildflower honey forms the center of this IPA. It tastes like it smells, floral and citrus malty notes on the front end, light hoppy bitterness. Great for a hot day or a cool night, with lower ABV and moderate bitterness. This sessionable IPA is far more drinkable than it's more aggressive counterparts.
6.4% ABV / 54.8 IBU
KillaVanilla
A smooth, robust porter with just the right amount of roast, coffee and chocolate malts, kissed by a late addition of Madagascar vanilla beans for a final layer of complexity. This is a beer you will want to spend the evening with.
5.8% ABV / 31.3 IBU
My Precious
New Zealand Pale Ale Goffin Cockatoos are from New Zealand, Hobbits were filmed there, and they grow some amazing hops. So we fashioned an Pale Ale using some of the best buds of New Zealand combined in a nice pale ale to get a precious result-delicate hop finish, over supporting malt biscuit. Our label features, Casey, one of the partners buddy, posed with his favorite "bling" ring.
5.1% ABV / 35.5 IBU
The rabbit, the legend, Prince...
UpTown Brown
Northern English Brown You've got your traditional slightly on the dryer side of nutty, and toasty. A nice malt balances and provides a smooth mouthfeel, but not sweet. It's a sophisticated Uptown side of Brown.
5.0% ABV / 23.2 IBU
Peach Keen Saison
Peach Ginger Saison For those of you who may not like beer because of the hops and or the the malt, we present a unique "beer" that is more carbonated peach with a ginger kick, it is dry and finishes quickly on your palate. She's a "hot" one, and happens to be one of our most popular beers.
7.0% ABV / 21.7 IBU
Prince Ganon
Belgian IPA, A very well balanced IPA fermented with Belgian yeast give this IPA a cloudy look and a smooth mouth feel. Clocking in with a middle IBU, but without the bite, it is named after a Sanford Celebrity, Ganon. This is one "hoppy number" for the city's number one bar hopper.
8.5% ABV / 74.7 IBU
Peach Keen
Glass of Peachy Keen Saison.
Top Hat, ESB
English Extra Special Bitter
Inspired by the tap rooms of London, this traditional Extra Special Bitter is an "Every Man's" beer. Full bodied and smooth with a touch of fire roasted dark malt. It's a night out with your mates with this unassuming British beer.
5.2% ABV / 36.4 IBU
Casey
Celery City USA
American Pale Ale This celery based pale ale made right here at SBC, suggested on a dare by a city councilman to honor Sanford's agricultural history when the city was known as the Celery Capital of the World, aka "Celery City". Makes a hella good "bloody mary" too.
5.4% ABV / 26.0 IBU
Flight on deck
Flight of 4 SBC beers.
Growlers Ready to Go
Route 46
Route 46 Imperial IPA with an IBU over 100. Smooth as a freshly paved highway, wonderful hoppy notes, invite you to dwell on it, but balance so well you'll find it hard to believe it's an IPA. Named after a local roadway, we hope you find your way to SBC to taste this amazing IPA.
9.1% ABV / 107 IBU
Razzmatazz
A red ale with hints of raspberry, brown sugar, molasses, a kiss of vanilla and an end with jalapeno. A sweet party, like a New Orleans Mardi Gras, with a bit of a kick, not to much, but just enough. Get your RAZZ on.
4.7% ABV
Proud Mary Bloody Beer
Take our Celery City USA, mix with a bit of Bloody Mary Mix add bacon, lime and an olive and you get the "Proud Mary" Bloody Beer
Weekender
A crisp, refreshing ale made with malted white wheat and fresh squeezed lemon juice. The light wheat haze and refreshing lemon bite make it a must for hot Florida Summers.
4.6% ABV / 19.5 IBV
Knockout Stout
Great Grandfather Edward, a renowned boxer (& bullfighter) would have loved this sturdy Oatmeal Stout. Nothing to hide and everything to love. The oatmeal flakes provide it a wonderful creamy mouth and smooth swallowing delight. Taste the pride, experience the tradition, it's a Knockout!
5.4% ABV / 28 IBU
Klugscheißer
German-Style Hefeweizen, Weizen - our Klugscheißer aka "Weiz Guy"
A pale, refreshing German wheat beer with a dry finish, a fluffy mouthfeel, and a distinctive banana-and-clove yeast character, that just happens to go well with pretzels and just about everything else.
5.6% ABV / 14.5 IBU
Weekender
SMaSH Logger
A Single Malt and Single Hop (SMaSH) contest inspired our fine lager. What is more lagery sounding than a Loggerhead. With Florida being host to approximately 90% of sea turtle nesting and a favorite animal of SBC we chose this fine animal to represent our flagship lager.
5.7% ABV / 22 IBU
Dessert and Killa Vanilla
Dessert made with Killa Vanilla and a partial proper pint of Killa.
Party Flight
Tulip glasses of SBC Beer light to dark with party filter.
Watermelon SMaSH
Our SMaSH Logger with Watermelon, the subtle flavor of the fruit with the smooth lager is sure to your favorite for summer. Limited Annual Summer Release.
ABV 5.5% / IBU 22
uKeg 64oz Founder Growler
64oz uKeg CO2 Copper Growler with Founder Glasses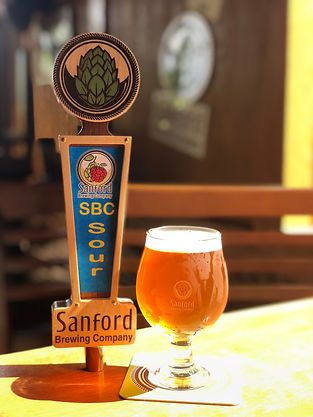 SBC SOUR
SBC Sour Tap Handle and Pint of Sour on table.
Red Otter Red
His name is "Maris". A nod to the mischievous River Otter and to a two-row, variety of barley called 'maris otter'. This beer features a delightful balance of malty sweetness and hoppy bitterness, resulting in an American favorite, the Imperial Red Ale. The hop aromas combine for a swimmingly complex character, just like an otter.
ABV 8.5 % / IBU 70.3
Legend
This lovely lass is borne of a hint of peat, & touch of old world smoothly blended in the caramelized wort to produce a sweet, slightly roasted, full body Scottish Export styled "heavy" with a higher ABV. This beauty combines the flavor of bourbon over French Oak spirals to deliver a fine sipping beer for any occasion. Notes of vanilla from the oak makes you think of a misty Loch in Scotland, we hope you find it memorable.
7.8% ABV / 27 IBU
We love Dogs
Image of SBC Pint with 2 SBC collapsible dog bowls.
Oktoberfest Märzen (Seasonal)
Märzen's were traditionally brewed in March & kept in dark, cold storage until fall, taking the German name for "March".
Typically, a dark copper color, having an ABV between 5.0-6.0%, with a pleasant mild hop profile, aka, a Bavarian Märzenbier. This style boasts a rich, full-bodied toasty flavor.
SBC's Oktoberfest owes its roots to the traditional Munich lager style.
Our label "Scarecrow & Crow" honors the fall season & the Florida Black Crow Bird.
5.4% ABV / 22.9 IBU
Choc Berry
This balanced porter combines chocolate and raspberries into a sensual journey over your palate, it's like a velvet dessert, better with each sip. Perfect for sipping, before or after dinner. Not too sweet, not too fruity, it's "just right". Just submit ....
5.7% ABV / 31 IBU
Beautiful STACK
Pyramid stack of SBC Tulips of SBC BEER, all colors, on table.
Pink Flamingose
A Pink Lemonade Gose with Hibiscus Tea and Pink Himalayan Rock salt round out this tart salty beer. Easy drinking, fun and session-albe.
4.9% ABV
Welcome to Fall
German Amber
Miss Cleo's Barkely Wine
Bottle Release:
Cleo was my best friend for 17 years. I've never met a dog that was more "knowing" as Cleo, she seemed to have a sense of things, and people. Her life was characterized by a stubborn need to roam and meet everyone she could. As an accomplished excavator (digger) she would take her sister Libby with her on adventures under the fence. She hated baths, loved snacks & knew squirrels were the enemy. We honor her with this Barley Wine. Strong, layered, sweet, and memorable.
11.7% ABV
Italian Stout
A collaboration with Antonio's Maitland, Knob Creek and SBC. We present this Imperial Barrel Aged Stout. Will warm you all over, available by 22 oz bottle only. Buonimissio!!!
11.3% ABV
Going Bananas Wit
Based on a solid Wit profile but add some "foster" and you have a light, amazing banana ester beer that you can't put down.
5.4% ABV 15 IBU
Whiskey Business
Your favorite Whiskey cocktail reimagined as a beer, why not? Dream of aged Kentucky heat in a SBC SOUR and you get a drink that will make you dance. Whiskey Business, serious stuff.
Break out of your comfort zone, and sour yourself.
5% ABV
Bourbon Barrel
Barrel aging happens here!!
Nonno's Meatballs and a Flamingose
House made, mozzarella stuffed meatballs from Nonno Enzo's family recipe with a glass of Flamingose.
Boggy Creek Dry Irish Stout
A dry Irish stout should be named after a bog, but we only have Boggy Creek down the road here in central Florida. We chose a catfish, the ubiquitous native fish, that swims the lakes, rivers & creeks here, year round as our featured logo. We added the shamrocks as a nod to the heritage of this NITRO beer. ☘️ Sláinte.
ABV 4.2% IBU 35
St. Johns River IPA
Lost Weekender
We loved our Weekender so much we made an Imperial version. Ever had an imperial wheat? Well now you can! All the lemon and flavor of our original with a kick to bring on the weekend. Partake Responsibly. Rolls in at an impressive
10.1% ABV
Killa Peppermint Porter
We present a treatment of our popular Killa Vanilla Porter, by adding in some peppermint paddy candies, and we have a lovely peppermint porter for the holidays. Limited seasonal offering.
5.8% ABV / 31 IBU
BORU Irish Red
Classic Irish Red named after Brian Boru, a legendary 'Irish Red' from over 1000 years ago, the High King of Ireland, Brian Boru, 'Boru' is a light and refreshing brew.
Get your IRISH on!
5% ABV 22 IBU
St. Johns River IPA
Intense flavors & aromas round out this IPA offering, immortalizing the city on the lake before Sanford. Named after Capt. Melon (Ft Melon)-Mellonville, the city, the fort, the street, the soldier, & now a 100 IBU IPA featuring huell melon hops. Showcasing a view of the riverfront, with cypress trees & an old steam boat that marked the commerce of St. John's at the turn of the century. Floral nose, smooth taste, that hits you in the kisser with 118 IBU on the back. To the moon..
6.9% ABV 118 IBU
Bokeymian
A very crisp and effervescent sweet malty libation with a simple slight bitter finish. Much like Sanford it's a whole lot of sweet with just a few bitter bits to keep it real.
5.6 % ABV / 40 IBU
Party ANIMAL
The perfect marriage of fruit and spice, this traditional Belgian ale is reminiscent of lighter fruits such as pears, oranges or apples with a spiciness making it sweet and seductive. Entirely too drinkable, with generous amounts of candy sugar and high carbonation makes this strong Belgian a favorite even among non-beer drinkers. *named after a panty stealing wiener dog, with a family friendly label.
10.0% ABV / 25.5 IBU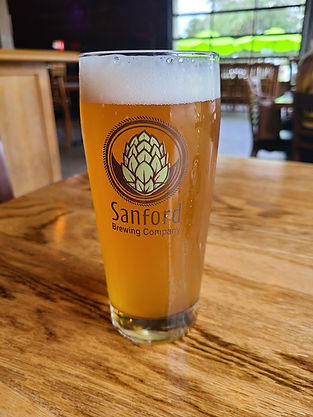 SBC Drinkin' Beer
House made, mozzarella stuffed meatballs from Nonno Enzo's family recipe with a glass of Flamingose.